AFK Arena Mod APK– Get ready and dive into your latest adventure into the gameplay of AFK Arena. Here, you'll find yourself having fun with a series of exciting turn-based challenges. Enjoy the epic fantasy adventures as you play as the ultimate heroes that are sworn to protect the lands of Esperia. Journey through the vast landscapes, experience various aspects of the stories, take on epic battles against intimidating enemies and explore the beauty and disparity of the lands
Enjoy the exciting online RPG gameplay right on your mobile devices as you join your friends and online gamers from all over the world in this ultimate journey to defeat the forces of darkness. Have fun and enjoy the game through a series of exciting in-game challenges and missions. Dive into in-depth customization and variations as you explore your characters' powers and capabilities. Have fun with the exciting team battles with turn-based mechanics.
AFK Arena Mod APK Gameplay
It all started at the beginning of time in Esperia where Life and Death were equal. The Goddess of Light, Dura was in-charged of creating lives on the planet, which results in her being the mother of all beings. In addition, Dura was also a dutiful guardian of the species as she guided them into the paths of peace, cooperation, harmony, and prosperity with her amazing powers and intelligence. And thus, Dura was adored by all the different species.
But on the other hand, the God of Death, Annih failed to receive any praise or admiration from the species and flew away into his dark realm in rage. And here, in an action out of rage, he has created the Hypogeans, the creatures that are both powerful as equally as they were evil. Thus, with his newfound armies, he ordered them to advance into Esperia in an attempt to eliminate all lives created by Dura.
A war broke out and it was devastating for both sides. With her final attempt, Dura has managed to seal and banished the Hypogeans into the void, never to be returned. However, due to her overwhelming sacrifices, Dura can no longer be present in this world. But in her last breath, she divided her power into seven artifacts which were then hidden away from the existence of mankind, only to be returned once the enemies return.
And many years later, the Hypogeans have somehow managed to return to the world and are ready to cause chaos and havoc to the lands. This time, without Dura to lead them, mankind must stand on their own ground and find a way to defeat the enemy, with your ultimate goal being to assemble the hidden artifacts and unleash Dura's greatest powers.
In the game, Android gamers will find themselves being introduced to unique and interesting RPG gameplay with amazing adventures awaiting. Here, you'll be playing as a group of heroes with different abilities. Together, they'll form up a group of capable fighters that could then defeat the forces of evils that have now returned. Have fun as you guide them through a variety of interesting in-game challenges as you defeat the enemies with brilliant tactics and commands.
Features of AFK Arena APK v1.99.02
Here you'll find all the exciting features that the game has to offer:
An array of amazing hero cards with varied powers
To start with, Android gamers in AFK Arena will find themselves having access to the in-depth roster system. It's just like with Tales of Wind, in which you're able to collect different heroes on your squad. Here, you're free to choose between a variety of different heroes from varied classes and factions, each featuring their own unique skills and abilities.
That said, the game features seven different factions with their own unique powers, which represent the seven artifacts that were bestowed to the world by Dura. Each power provides your heroes with a series of capable abilities and skills. And certain powers could counter or synergize with the others to power up your attacks or decrease its effectiveness.
As for the hero classes, the game also allows gamers to pick up heroes from various backgrounds, each having their own beautiful designs and unique traits. As you progress in the game, heroes from different classes will also develop their own epic skills along with their certain attributes. Heroes from the same factions and classes will have certain bonuses as you dive into the battles against other enemies.
Exciting turn-based battles with high levels of strategy
And as you have your team up and ready, it's time to dive into the exciting in-game battles with the intuitive and interesting turn-based battles. Here, you're free to set up your heroes in varied team setups. Make uses of their unique powers and your interesting team combinations to effectively deal with your enemies.
Explore certain tactics and approaches as you dominate and defeat your enemies. Collect factional and class-related bonuses as you progress through the in-game challenges. Play to your advantage and come up with brilliant commands as you gain the upper hand in each and every turn. Some of you will even find it more tactically-heavy than Monster Legends and other RPGs with turn-based battles.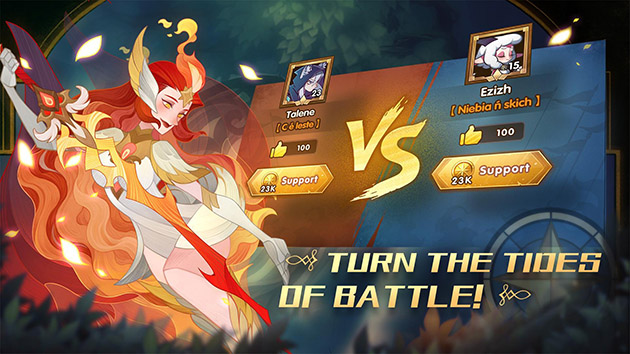 And for those of you who're interested, gamers in AFK Arena will also find themselves having access to the in-depth and interesting mazes and dungeons throughout the game. Each maze would feature its own unique in-game challenges in which you can play at your own pace and without time limits or deadlines. And most importantly, awesome rewards and hidden treasures are well-hidden around you. So don't miss your chance to explore them.
A series of exciting levels and challenges in the Campaign
Dive into the awesome gameplay as you join the campaign and have fun through a series of exciting in-game challenges and stories. Have fun enjoying the game by acquiring certain heroes, leveling up one of your heroes, leveling up the player, completing your Crystal Pentagram, advancing through the Arena, and so on. And most importantly, find yourselves enjoying new stories and gameplay as you progress.
Interesting features to explore in the Dark Forest
To make the game more interesting game, gamers in AFK Arena also find themselves having access to the interesting Dark Forest, in which you'll be able to enjoy the game with more interesting features. That's said, you can start your journey by competing in the Arena of Heroes, King's Tower, Bounty Board, Arcane Labyrinth, Trial, and so on.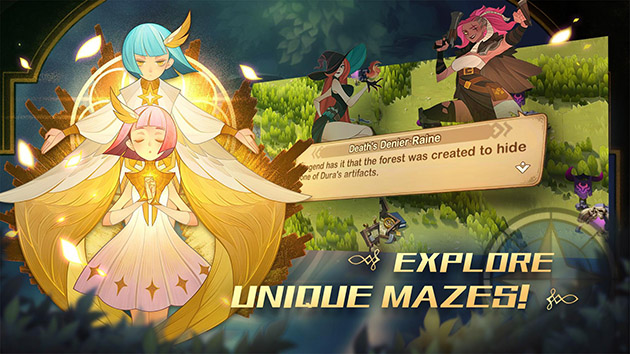 Awesome features in Ranhorn
And along with the main campaign, the game also introduces gamers to your adventures in Ranhorn. Here, you can enjoy the game even more with the Guild gameplay, where you can join other gamers in exciting guild activities. Learn new powers, unlock new attributes for your team, and become more knowledgeable in the Library. Power-up and increase your heroes' sacristy in the Temple Of Ascension. Purchase new gears and resources in the Store. The list goes on, the in-depth and diverse gameplay will certainly satisfy most of you.
Enjoy the game with friends and online gamers from all over the world
As mentioned, the game also allows Android gamers to enjoy their exciting in-game adventures with friends and online gamers from all over the world. Here, you can forge your alliances with other gamers and enjoy exciting team battles with your opponents. Compete and distribute your skills in the Arena challenges. Play the game in Guild mode, and so on.
But most importantly, it's the intuitive and convenient communications in the game that make it extra enjoyable. That said, gamers in AFK Arena can easily send friend requests to other gamers and have fun with their friends whenever they're ready using the available global or single chats.
Dive into the exciting daily missions and get your rewards
Moreover, for those of you who're interested, the game also allows gamers to fully dive into their exciting in-game missions with awesome challenges, addictive gameplay, and many special rewards. That being said, you'll find yourself fully immersed in the awesome gameplay of AFK Arena as you enjoy different missions and quests every day. Collect your rewards as you complete them and strengthen your team.
Enjoy the game with many interesting events
And as you progress in AFK Arena, you'll also find yourself having access to interesting gameplay with many available events on special occasions. Each event would feature its own settings, gameplay, features, and most importantly, special rewards.
Free to play
For those of you who're interested, the game is currently free for all Android gamers to enjoy on their mobile devices. That being said, you'll find it quite simple to have the game installed from the Google Play Store without having to pay anything.
AFK Arena Mod APK Features
However, since it's still a freemium title, Android gamers might also find it a little annoying with the in-game ads and in-app purchases. Hence, you might want to go for our modified version of the game, which boasts completely unlocked gameplay for free. That said, you can easily download and install the APK Arena Mod APK from our website. Enjoy the game to the fullest as you progress.
HD Graphics
With amazing visual experiences, AFK Arena is certainly among some of the best mobile games for Android devices, especially if you're interested in beautiful hand-drawn images, mesmerizing characters, and powerful visual effects. And most importantly, with the well-optimized gameplay, you'll definitely find the game a lot smoother and more satisfying.
Outstanding Sound and Music Quality
Dive into the awesome battles and adventures in the mystical world of Esperia as you enjoy the game to the fullest with powerful audio effects. Have fun with impactful and atmospheric soundtracks where you can find yourself completely hooked to the game.
How to Download and Install AFK Arena latest 1.99.02 Android APK
Make click on the download AFK Arena Mod APK link given.
When you click on it, the file starts downloading.
And when the file is downloaded. Open and run it.
Accept all the terms and conditions.
As the file is completely installed, enjoy using the game distortion-free.
Concluding Words
With simple, intuitive, and enjoyable gameplay, AFK Arena is certainly a great mobile title for Android gamers to enjoy on their devices. And with the game being completely free and unlocked on our website, you'll certainly not be disappointed with the awesome gameplay in it.